Suppose you want to backup (export) all of your Evernote notes to some safe place regularly to prevent loss of your Evernote data. Backupery for Evernote makes this possible. It is a Windows application that performs regular export of all your Evernote notes to a wide range of backup destinations. You could keep your notes in any directory on your laptop or desktop, external hard drive, USB stick, or network share. Also, it is possible to backup directly to Dropbox, or store the notes in any directory that is synchronized with any cloud storage like Google Drive, Microsoft OneDrive, Box, etc.
To start protecting your Evernote data, you'll need to perform the following simple steps:
Download Backupery for Evernote to the computer where your Evernote application is installed.
Run the installer, and then follow the instructions on your screen.
Run the application and follow the backup setup wizard.
That's all! Now all your Evernote notes are backed up regularly to the location you can view by clicking on the "Backup Destinations" button on the Settings tab.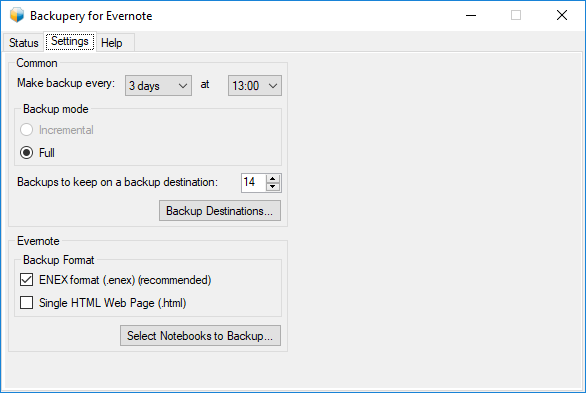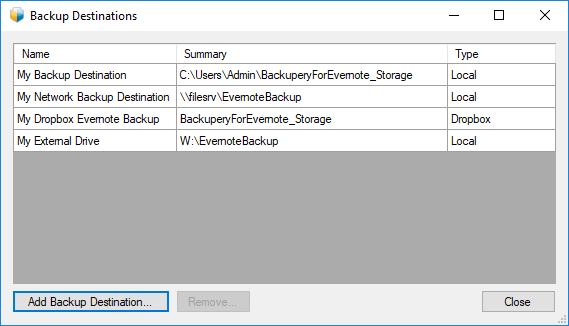 Of course, you could add new backup locations at any time just by clicking "Add Backup Destination". You could choose any directory on your desktop or laptop, or some folder on your USB stick or hard drive, or use any directory that is synchronized with any cloud storage of your choice (Google Drive, Microsoft OneDrive, Dropbox, etc.). Also, you can backup directly to Dropbox.
You could select which notebooks you wish to backup by clicking on "Select Notebooks to Backup…":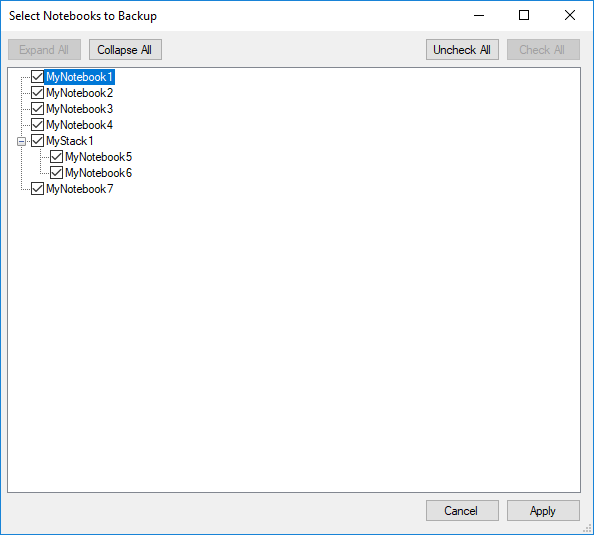 Notes from each notebook and stack are saved to a separate directory so your stacks/notebooks structure is preserved:
The application starts when your computer starts, so you don't need to bother starting the application manually.
If you are interested in how to restore Evernote notes from the backup snapshots, see the following article: How to Restore Your Evernote Notes Using Backupery for Evernote.
As always, if you have any questions – just let us know: Contact Us.
To start protecting you Evernote data download Backupery for Evernote now.